What is the format of a PFLAG support meeting?
PFLAG support meetings are free and provide a safe and confidential place for those who are learning to deal with the reality of sexual orientation, gender identity, and gender expression. 
We provide loving and non-judgmental support for anyone seeking support, education, and/or advocacy related to the LGBTQ community.
Everything shared at a PFLAG meeting is strictly confidential and no recording is permitted. This allows everyone present to speak freely and express themselves in a safe, private, supportive environment.
Who attends PFLAG support meetings?
PFLAG support meetings are open to the public. Attendees and members include people of all ages from diverse ethnic, religious, cultural, and economic backgrounds. 
At our support meetings, you will meet parents, family, and friends of LGBTQ loved ones and members of the LGBTQ community. Some parents may come together, alone, or with their children. Some folks bring a friend along for support. All are welcome.
With this diverse group of participants, families, parents, straight spouses, LGBTQ children, and children of LGBTQ persons can find understanding and assistance at PFLAG meetings.
My child, sibling, relative, or friend recently came out as LGBTQ. How can I benefit from attending a support meeting?
Getting this kind of big news from a loved one brings with it a variety of emotions and challenges.
PFLAG support meetings offer you a chance to share your experience, voice your own feelings and concerns, and listen to others who have had a similar lived experience to your own in a supportive, non-judgmental environment.
I'm questioning my sexuality and/or gender identity. Are these support meetings for me?
Absolutely! Listening to the experiences of LGBTQ individuals as well as their family members and friends is valuable as you grow to better understand yourself. The experience of questioning oneself can be isolating – but at PFLAG support meetings you will see you are not alone.
I'm a member of the LGBTQ community. Can I attend a support meeting?
Yes, we'd love to have you! Hearing the experiences of lesbian, gay, bisexual, trans, and queer people adds a valuable and important perspective to PFLAG support meetings.
Your story can encourage parents to be loving and supportive of their LGBTQ children and help people who are questioning their sexuality or gender identity.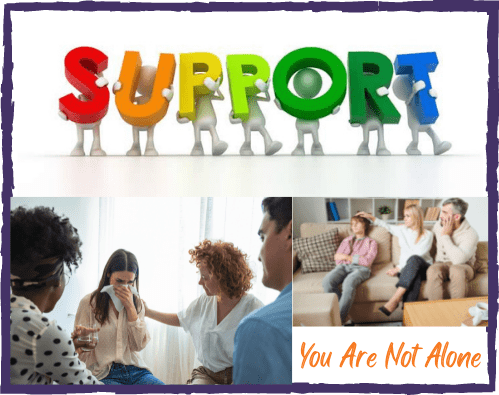 I'm a cis/straight ally. Can I attend a support meeting?
Yes, please do! Listening to the experiences, struggles, and successes of families and individuals in the LGBTQ community will help make you a better ally. Sharing your own experiences as an ally is an important contribution to our support meetings.
Do all attendees have to speak? Can I just listen?
Each attendee is encouraged to introduce themselves and express what brings them to a PFLAG meeting. Beyond that, each person is free to listen without sharing their personal story. Everyone is given the chance to speak, but no one is obligated to.
Some first time attendees are not sure how much they want to share, and that's understandable! After listening to a few heartfelt stories from other people at the meeting, you may see the benefit in sharing your own experiences.
Are PFLAG's meetings affiliated with any religious or political organization?
No, PFLAG is not a political or a religious group. PFLAG is the nation's largest organization dedicated to supporting, educating, and advocating for LGBTQ+ people and those who love them. Learn more.
What safety measures are in place at PFLAG meetings?
PFLAG Greater Orlando takes the safety of our attendees seriously. We work with our host locations to develop regularly updated safety plans. Meeting facilitators are trained in safety protocols and emergency procedures – all with the goal of creating a secure and welcoming atmosphere where we can support one another.