Thanks to everyone who supported PFLAG Greater Orlando during Pride Month! It was a huge success for LGBTQ+ people, family members, allies, and everyone who supports love, diversity, and equality.
Our dedicated, hard-working volunteers participated in a variety of positive, uplifting community outreach events. Overwhelmingly, their experiences show that our local LGBTQ+ community is thriving despite the misguided efforts of an uninformed minority. 
Support Meetings
As we do every month, PFLAG Greater Orlando held three support meetings during Pride Month.
June 6 (first Tuesday of the month) from 7pm-9pm in Longwood at the Longwood Hills Congregational Church
June 8 (second Thursday of the month) from 6:30pm-8:30pm in West Orlando at St. Luke's United Methodist Church
June 21 (third Wednesday of the month) from 7pm-9pm in Downtown Orlando at First United Methodist Church of Downtown Orlando
Thanks to everyone who attended to share their stories, offer support to others, and continue building a strong community for all of us. If you haven't been to a support meeting yet, we'd love to have you! This key part of PFLAG's work allows each attendee to share their story in a confidential setting and support others who may be struggling.
Kendra Scott Jewelry Fundraiser
On Saturday, June 10, Kendra Scott Jewelry held a fundraiser in support of PFLAG Greater Orlando. It encompassed stores throughout Orlando and other parts of Florida, including at the Mall at Millenia, Disney Springs, Miami Brickell, Boca Raton, and Palm Beach Gardens.
A huge thanks to Kendra Scott – they've been a long time supporter of our organization! And to Ann, our dedicated board member who always does plenty of (her husband might say "too much") jewelry shopping during our fundraiser.
Orlando City and Orlando Pride Soccer Games
On Saturday, June 10, PFLAG Greater Orlando participated in Orlando City's Pride Month activities. Despite some uncooperative weather, our volunteer team was still able to do important community outreach, share information, give out Pride swag, and collect generous donations.
On Sunday, June 11, two of our members attended the Orlando Pride game. The atmosphere was amazing! Thanks to both the Orlando City and Orlando Pride teams for putting on such enjoyable Pride Month events. We were thrilled to be invited!
Pulse Remembrance
The Orlando LGBTQ+ community was forever impacted by the horrific massacre at Pulse on June 12, 2016. Many of our chapter members and board members were moved to do more to support and advocate for the LGBTQ+ community as a result of that tragedy and in honor of the 49 lives lost. 
With our message of love, acceptance, and support, PFLAG Greater Orlando contributes to making the world a safer place for everyone, especially those in and allied with the LGBTQ+ community.
Lake County Pride
Sadly, the inaugural Lake County Pride celebration in Tavares had to be cancelled due to bad weather. Our volunteer team was ready to participate and very disappointed by the last minute cancellation. We hope the event can be rescheduled and look forward to seeing you there!
Sunset at the Zoo
Many thanks to the Central Florida Zoo for inviting us to their Sunset at the Zoo event during Pride Month! The turnout was excellent and we loved meeting so many enthusiastic members and supporters of the LGBTQ+ community.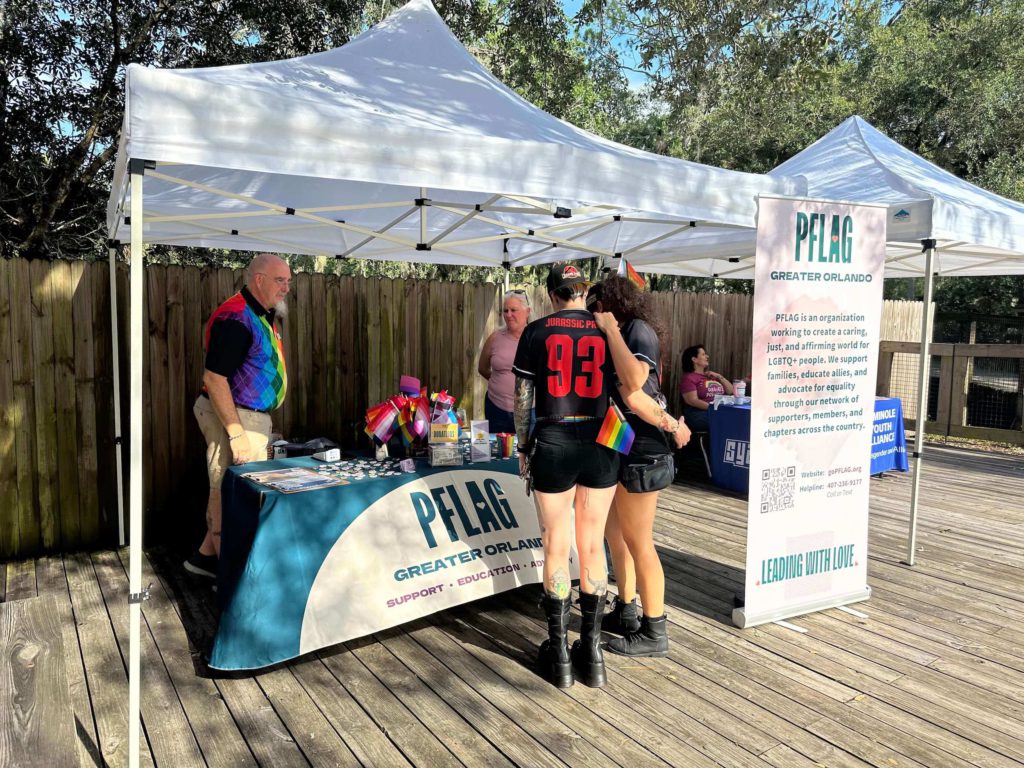 We're going to have to get more swag – our booth was so busy that we nearly ran out of stickers and buttons! Special thanks to Richard Glover, Central Florida Zoo's CEO, who made us feel very welcome. We look forward to partnering with them again soon!
Speak from the Heart at Winter Park Library
Our volunteer team enjoyed the Speak from the Heart event at the Winter Park Library. This all ages celebration of LGBTQ+ identity and culture was a great opportunity to inform the community about PFLAG, reach out to local families, and support our public libraries. 
Thanks for All Your Support During June
Pride Month reminds us to be proud to be ourselves, embrace our identities, and be there for others on their path towards authenticity. What started many years ago as a protest has evolved into a beautiful outpouring of support from people of all ages, backgrounds, and identities. 
Thank to you everyone who came up to us at a Pride event, attended a support meeting, and otherwise backed PFLAG during June!